STANLEY K. TURNER
President/ Managing Partner
Registered Professional Land Surveyor
LA # 4753
MS #2968
AL #27172-S
Member:
American Congress on Surveying and Mapping
National Society of Professional Surveyors
Louisiana Society of Professional Surveyors
Mississippi Association of Professional Surveyors
Alabama Society of Professional Land Surveyors
LSPS District 9 Chairman 2007
Experience
Mr. Turner began his surveying career in 1982, working on crews performing a vast array of surveys, from large topographic surveys for drainage, sewerage and roads, to hydrographic surveys in the Mississippi River.
Highlights of Mr. Turner's career include:
10 mile route survey in St. Tammany Parish for the Department of Transportation and Development
200 acre boundary survey in the city of New Orleans
Extensive surveying at the New Orleans International Airport including monitoring the runway elevation following an accident, and preconstruction, construction and post construction surveying of the north parallel east west taxiway over a period of several years
Extensive boundary and topographic surveying at the Port of New Orleans, including a 1600 pile layout for the Napoleon Avenue Wharf on the Mississippi River
Surveys for over 500 cellular tower site surveys in Louisiana, Mississippi and Alabama
One of a two man party charged with surveying a trans-shipment facility in Georgetown, Guyana
136 acre boundary and topographic survey for the Hammond Sewerage Discharge Facility
Dennis Gowin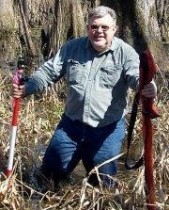 Registered Professional Land Surveyor
Louisiana #4846
Missouri #LS-2311
Mr. Gowin has extensive experience in boundary surveying, and title research and interpretation. Surveying since 1979, Mr. Gowin has filled the roles of office and field supervisors during his career. He is skilled at the use of AutoCAD, and other programs necessary to produce quality results in an efficient manner. Mr. Gowin excels in client relations and has filled that role, among many others, since his employment at Turner Surveys began. He is counted on to provide experience in boundary control issues. Mr. Gowin is skilled at using and processing GPS data, as well as field data from data collectors.

Experience
Mr.Gowin has provided supervision for the following projects:
Fisher School Basin Levee Project
Canal Street Streetcar Project
Factory Outlet Mall in Branson Missouri
Partnership Industrial Center in Springfield Missouri
GPS Location of sewer manholes in the City of New Orleans
National Guard Facility at the Hammond Northshore Regional Airport
ALTA surveys for O'Reilly's Auto Parts
ALTA Surveys for Walgreens
ALTA Surveys for CVS Pharmacies
Survey for Telecommunication Site in the Louisiana Superdome
Established control points relative to state plane coordinates, prepared topographic surveys, and provided construction layout for the National Guard Facilities at the Hammond Northshore Regional Airport
Andrew N. Faller, PLS
Andrew N. Faller, PLS
Registered Professional Land Surveyor
Louisiana #4980
Arkansas #1739
Graduated Southern Polytechnic State University of Georgia 2004
Bachelor of Science in Surveying and Mapping
Mr. Faller began his surveying career in 1999, working for local surveyors and engineers during the summer months while attending high school and college
He is highly skilled in the use of Carlson drafting software and data collector programs, as well as GPS data importation and processing. He serves as Turner Surveys' project manager, field crew coordinator, in addition to providing quality control. He also serves as a point of contact for clients.
Experience:

Extensive control surveying and construction layout at the Valero St Charles Plant's HCU project; this project was relative to plant grid, as well as state plane coordinates and NAVD 88
Has managed multiple projects at the North Oaks Regional Medical Center
Performed field work and prepared all drawings for the Army National Guard Readiness Center in Covington, Louisiana
Performed field work and prepared drawings for ALTA survey of Shadow Lake apartment complex in Jefferson Parish
Numerous other large and small boundary surveys, including many ALTA surveys